The Manufacture, more than a location, rather a whole universe...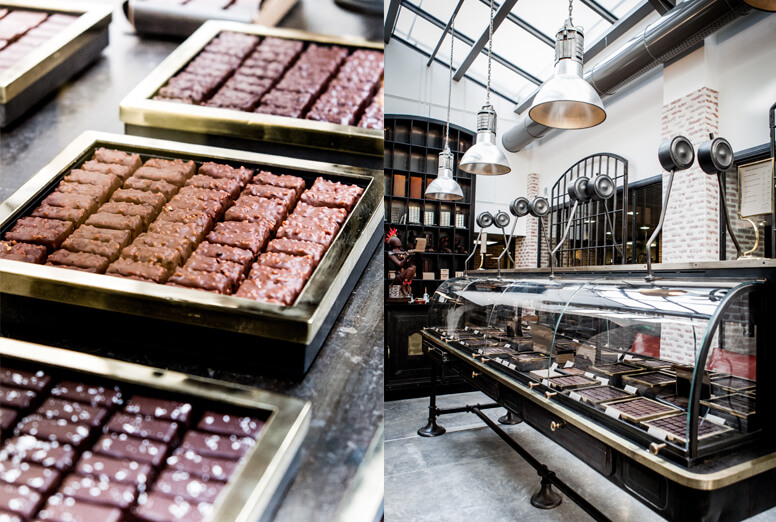 Alain Ducasse's Manufacture de Chocolat was born of the desire to go back to the roots, the true essence of what makes chocolate: the work of a craftsman, both meticulous and creative, a craft using bespoke machinery, processes that are time consuming… In a world that spins ever faster, this place is a return to the notion of patience, the love of a job well done.
In this fully-open space, Alain Ducasse wants the physical, sensorial and sensual magic of the universe of chocolate to be rediscovered. Transparent, noisy, full of life, the space offers up all the secrets and the inner workings of the complex and fascinating process that is the preparation of chocolate.
Because chocolate is manufactured in the traditional manner here, with each stage of its production mastered and controlled, the craftsmen can indulge in exploration and innovation. "Here, we can allow ourselves the freedom to make creative choices that could not be realised in an industrial context," Alain Ducasse enthuses.
Set back from the bustling Rue de la Roquette, covering 320m2 at the back of a courtyard, the Manufacture is an ode to the craftsmanship of old, with an authentic, raw, discordant decor. Concrete floors, brick walls, frosted-glass partitions, steel and cast iron structures, furniture sought out, including from the Banque de France… it has been designed to last for generations, to be inscribed in time, writing its own history, maturing as the years pass by. "We have no desire to sell a brand or an image," explains Alain Ducasse, "we first and foremost sell products and savoir-faire. We work in depth, in truth".